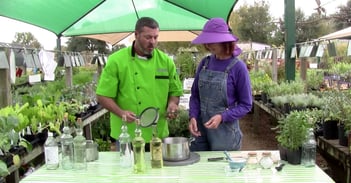 Building an online presence is like creating a new planet complete with its own characters, stories, and evolution. Gravity Digital got to create online magic in the shadow of a business that was, in itself, its own magical world. We began a campaign for The Arbor Gate Garden Center eight years ago and, since then, we've grown their traffic by almost 20% annually.
Some businesses are so vibrant and original that they seem to bubble up from the screen, but how would we capture that much effervescence in our campaign? The only sensible first step would be to dig all the way down into the soul of their brand to understand every tiny pixel of their corporate identity.
Face Time
Arbor Gate's style of connection is intimate, eclectic, and utterly enchanting so their social media presence had incredible potential. Of course we tapped into it, and we were right to: their organic Facebook audience has ballooned at a startling rate of almost 50% growth year over year. We make sure every post is topical, true to the brand identity, and appealing to Facebook's Edgerank algorithm.
Real-World Events in a Virtual World
A core part of The Arbor Gate's brand is brought to life through classes, lunches, and a vivacious events calendar. Their online advertising would never do the brand justice unless we leveraged their event calendar. We:
Created a YouTube campaign that echoed their real world classes.
Set them free in front of a microphone to create their "Green Thumb" podcast.
Created an in-depth on-site events calendar to draw more feet to the center.
44% of marketers enjoy a return on investment of 3:1 from event marketing, but we knew The Arbor Gate had even more to gain from it. Intimacy, staff personalities, and the decidedly social identity of the business are fundamental parts of their brand, so prmoting real-world events online would give their new clients a way to connect as engagingly over the internet as they could in the brick and mortar store.
Outbound Cheer
No one in their right mind signs up for a dull, advert-heavy newsletter, but when marketers manage to create real intimacy through online advertising, clients virtually beg to part with their email addresses. This is how The Arbor Gate's value-added outbound campaign was born on the wings of a full calendar and a bubbly blog run by industry experts and staff alike. The Center's email list has grown by 16% annually for six years.
Gravity Digital delves all the way to the core of every client before setting a marketing plan to paper, but The Arbor Center turned this process into an absolute dream for us. We appear to have fallen for the online advertising we created because we're in love with the center and all the charm of its extraordinary grounds. Maybe one day we'll even manage to keep a cutting alive for longer than five days. Until then, we're happy to walk through the nursery pretending we have green thumbs.
About the Author Casey O'Quinn
Casey founded Gravity Digital in 2000 after serving as the Internet Services Director for a Nashville-based Ad Agency. He's a rare breed that operates both left and right brain, so along with oversight of the company he's active in the creative process for our clients.

Follow Casey O'Quinn: LinkedIn | Twitter