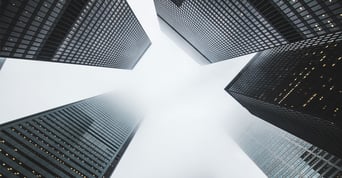 B2B web design is enjoying a heyday exhilarating enough to entice even the most apathetic of marketers. From Quid.com's superb functional minimalism to Digital Ocean's dynamic animations, you'd be forgiven for thinking the best B2B websites have nothing in common. They might look unique, but they all have the same core elements.
Clear, Logical Navigation
Dstillery owns one of the most visually arresting B2B sites on the web, but strip it of its handsome graphics and you're left with bare-bones navigation inspired enough to make a designer weep. Today's home pages are being split into highly intuitive extended segments.
39% of users stop using a site when pages take too long to load, especially if the code is also laden with glitches. Whether or not you exploit the new 'long homepage' trend or not, your navigation needs to be strategically sound.
Smartphones are responsible for two out of every three minutes spent online, so design needs to be uniform across devices.
Content is King
Your site needs to fit around your content like a bespoke suit. Webinars, infographics, video, and whitepapers, presented interactively, give users a way to engage with your site as though they're being guided by a flesh and blood service representative. B2B marketing needn't be as dull as a corner cubicle. 47% of B2B consumers preferred humor over any other format. If Dropbox and Cisco can bring vitality to products as dreary as storage and routers, so can you.
85% of B2B marketers use content marketing to generate leads and sales, yet they measure their success by traffic instead of conversions. Long scroll homepages guide users competently and quickly along the marketing funnel, so your analytics need to measure returns at every stage of your lifecycle.
Marketing Funnel
The most important metrics in B2B web marketing are lead quality, sales, and conversions. Today's consumers are looking for information, not entertainment. That makes clarity key to your success, and you can achieve it by mapping out your customer's journey from awareness to the final sale. B2B transitions along the buying journey include:
First touch, channelled from social media and search, measured with click through rate, visits, and subscription metrics.
Lead creation through retargeting and content marketing, measured with lead conversion metrics.
Final touch, measured with opportunities per keyword, campaign, channel, and close rate metrics.
Search Engine Optimized
This year's SEO is as reliant on keyword research as it was in 2014. The best B2B websites use long tail keywords and 900 to 1000-word blog posts. Google Panda scopes sites for relevance, so your content must be carefully crafted to be pertinent to your industry. Internal links to high-reputation sites still contribute to rank, but 99% of the best B2B websites use header and meta-tags today. Meta descriptions are crucial web copy, too.
Flat, material design styles are all the rage, possibly because they thrust the nuts and bolts of navigation and SEO into the foreground. Aesthetics are important, but they take a backseat to practical user friendliness.
About the Author Casey O'Quinn
Casey founded Gravity Digital in 2000 after serving as the Internet Services Director for a Nashville-based Ad Agency. He's a rare breed that operates both left and right brain, so along with oversight of the company he's active in the creative process for our clients.

Follow Casey O'Quinn: LinkedIn | Twitter