We've had several conversations about trends we see either developing or continuing in 2019 for marketing. We're talking a lot about personalization, and in the healthcare space it looks a little different. HIPAA can make it hard to personalize marketing, but we have a tried and true tactics we use for providers.
First, let go of the idea that personalization has to be a one-to-one campaign for an individual. Personalization can start by creating content around conditions, something we call condition-specific marketing.
Knee pain is a great example. By starting very high-level, with articles, Facebook posts, and videos around the knee, you're essentially finding people that are raising their hand and saying, "Hey, that's me." Then, you're off and running – that's how we start with personalization in healthcare.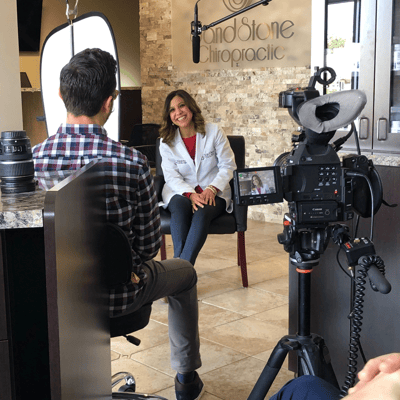 If they've raised their hand to say, "I like to read your content about knee pain," then you're able to continue that conversation if you've set up all your marketing plumbing correctly.
Personalization around a specific condition does not begin with, "Hey, we treat knee pain and you should make an appointment here." That's where you're jumping straight to the bottom of the funnel. It's a big 'Buy Now' button, and it just doesn't go over well, particularly in healthcare.
Here's how you combat that: create content and provide value first.
Remember: It's all about them.
You're entering the conversation that the prospective patient is already having in their own head. "I know that my knee hurts, but I don't exactly what's going on or what I should do next."
How do you enter that conversation?
In our knee pain example, you could create a video or blog post about steps you can take at home if you're experiencing knee pain. They key is to provide real, practical advice.
Don't be afraid to get specific. The more specific it is to a person's situation, the more value it's going to provide.
Many providers we talk to already have documents and resources they hand to patients when they come into the office. These are great assets to repurpose.
Providing valuable content will position you as a trusted advisor, a source of information. When they do decide that are going to seek professional help, you'll be front of mind.
It's also important to know what condition-specific marketing is not. It's not treatments and therapies. It's not your services.
How do you know if you're doing it right? You want the content to provide a small victory, whether that be physical, mental, or emotional. It's possible the content will even help solve their problem, and that's a good thing.
Here's to more marketing personalization in 2019.
About the Author Casey O'Quinn
Casey founded Gravity Digital in 2000 after serving as the Internet Services Director for a Nashville-based Ad Agency. He's a rare breed that operates both left and right brain, so along with oversight of the company he's active in the creative process for our clients.

Follow Casey O'Quinn: LinkedIn | Twitter