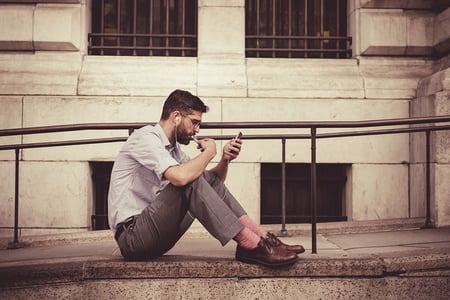 The world's biggest tech companies are renowned for their weird and wonderful web designer interview questions. From, "What kind of tree would you be?" to, "Which superpower would you choose?" Silicon Valley's big five love to open up their interviewees' brains and have a good look around. Large corporations have the resources to train and guide those they hire, so all they need from them are lateral thinking ability and a go-getter's attitude. You're unlikely to have that much time on your hands. Your web design project needs to be up and running, glitch-free, faster than you can say "lost profits", so your questions need to be decidedly more practical. First up on our list of questions to ask a web designer...
What percentage of your time will be dedicated to front and backend development?
If you have a site elegant enough to win a Webby Award, but your profits have dipped since it went live, you've learned the hard way that looks aren't enough. Historically, web designers spent the vast majority of their time creating pretty graphics in Photoshop. Programming languages have now evolved, and poorly handled functionality can destroy your return on investment in a single click. A hard-to-find shopping basket or unsecure payment system can lose you thousands of dollars an hour, and you'll likely not spot the problem till weeks have passed. Layout needs to be intuitive and able to render in any browser and device.
A designer who takes care of all facets of your site needs to spend most of their time on development, particularly if you're an e-commerce company. Make sure you're hiring the right professional, though.
Graphic designers are responsible for palettes, fonts, and graphics
Website designers deal with stylistic issues as well as site navigation.
Developers implement graphics into code.
Do you design to impress your peers or the end user?
Sites as slick and gorgeous as nvnarecords.com and because-recollection are as scarce as blue diamonds, yet to puzzle out what they do, you probably need to turn to Google. They're obscure enough to leave any user frustrated within minutes, but the design community loves them anyway. Glitzy and marketable are two different things. Make sure your web designer interview questions ascertain who your contractor is hoping to impress. If the answer isn't 'the end user', you might end up with a site pretty enough for an art gallery wall that's utterly useless in terms of profits. Make sure that your site is designed to increase revenue.
What support will you give me after the site goes live?
You need to easily manage and update your site after your designer's been paid, so make sure you include DIY management in your web designer interview questions. Will you be taught how to update, and what will support cost if your site malfunctions or is hacked?
What industry or business research will you do?
Amazon is the most loved brand online today. Unsurprisingly, it's also the top earning site on the web. The top 10 most adored sites on the web have one thing in common: they're well branded to satisfy their online demographics. A web designer with marketing smarts is worth her weight in Bitcoin, so make sure she has a head for branding.
How will you execute the project and coordinate talent?
If you have a user-friendly site that doesn't attract traffic, it's probably not been optimized. Websites need to market themselves to Google or they might as well not exist. Content marketing, social marketing, and search engine optimization should be considered as part of your site. Ideally, your web designer has a team of copywriters and marketers to outsource to in a way that gets you quality work on a rational budget.
About the Author Casey O'Quinn
Casey founded Gravity Digital in 2000 after serving as the Internet Services Director for a Nashville-based Ad Agency. He's a rare breed that operates both left and right brain, so along with oversight of the company he's active in the creative process for our clients.

Follow Casey O'Quinn: LinkedIn | Twitter