I posted a question recently on LinkedIn asking physicians and practice managers to weigh in on this question: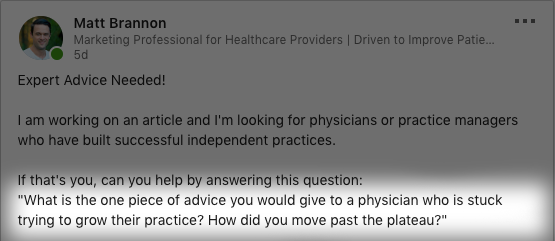 Of the more helpful responses I received, they all seemed to have the same theme: scheduling.
Then I received a call from my dad, who is a retired healthcare executive. He had seen my request and offered up some really great advice on… scheduling.
Here's the deal. It's unknown how many patients are turned away for most practices per day, but it's likely at least 1-2, and the doctor isn't even aware of it. As a former patient scheduler, I can tell you that, from my experience, this is true.
If you are a doctor, ask your scheduler if they are turning away patients because they don't feel they can fit them on the schedule.
It's a Big Deal - $$$
Let's say you are in the office 220 days per year on average and like most practices, you are missing a handful of unscheduled appointments every day. How much revenue for your practice are those missed appointments worth?
It's amazing that often entry-level employees can have such a significant impact on the bottom line. Also consider the fact that the majority of negative reviews are due to poor communication and disorganized operations, not diagnosis, treatment, or outcomes.
There are a couple of scenarios that are common that make schedulers feel uncomfortable putting patients on the schedule.
Scenario #1 – Unclear or Inconsistent Restrictions
Schedules get complicated because we have different appointment types, and some take longer than others. We also have commitments outside of the practice that demand our time on certain days.
So, we create restrictions on our schedules:
"only schedule follow up appointments on Tuesday mornings"
"never give me a new patient after 4 PM"
"it's ok to double book first thing in the morning, but not before lunch"
It can get muddy quickly, and over months and years, it can get very complicated.
Other times, there are temporary restrictions that need to be communicated. For example, let's say you have an event after work that you can't be late for and there is a last-minute addition to the schedule at 4 PM. If you express frustration to your scheduler, do you think you will ever see another patient added to that time slot, even on days when you would welcome it? Probably not.
It's possible that a restriction is given for a very good reason, was meant to be temporary, but removing that restriction was overlooked.
Scenario #2 – Cancelling Your Schedule at the Last Minute
As the doctor, you are rightfully in control of your schedule. You have a life, a family, and responsibilities that occasionally pull you away from your practice.
There will be times when you need to cancel your schedule at the last minute.
Just keep in mind what happens for your patients (who have likely taken time off work or arranged babysitting) and your scheduler (who suddenly regrets filling up your schedule with people she has to call with bad news).
Patients and staff will forgive these incidents once or twice, but if it becomes a pattern you can expect to lose patients and the confidence of your team.
The Easy Fix
The good news is you can fix this practice killer and make a major difference in your bottom line (not to mention employee and patient satisfaction) for ZERO dollars.
You don't even have to give up control of your schedule.
You just have to give your team fifteen minutes of your day before the first appointment. This daily huddle allows you to give some context to your scheduling needs for the day.
"We don't usually do this, but I see that Ms. Smith is on the schedule at 3:30, I know what she's coming in for and it's going to be quick… feel free to put someone else on the schedule at that time"
The daily huddle allows your team to get clarity when they don't understand your needs.
"I thought you said we couldn't add anyone to the schedule after 4?"
"You can, I had a previous commitment after clinic hours that I don't have to worry about anymore, so now I have more flexibility at the end of the day."
The daily huddle builds team confidence and unity. You'll likely find that you'll be seeing more patients, at the right time, when you build this tactic into your workday. It's also important that you don't delegate the huddle to a nurse or other team member. They need to hear it from you.
Bonus Tip
The best type of patient that comes into your office is one that has been referred by another happy patient. Make this easy by putting your business card in the exam room. They're going to be sitting in there for a few minutes with nothing to do. If they see your card, and they like you, and they have a friend that could use some help, they'll likely grab a card.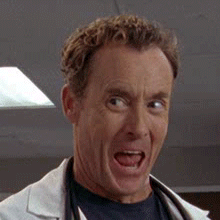 About the Author Matt Brannon
Matt joined Gravity Digital as the Marketing Director in 2013. He immediately connected with the company vision and values, and played an integral role in Gravity Digital's transition from a traditional ad agency to an inbound healthcare marketing agency.

Follow Matt Brannon: LinkedIn | Twitter