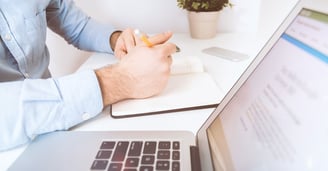 Confession, I hate having to incorporate keywords into blog posts to appease the search engines.
I know it's important. Over the past year, 36% of our website traffic has come from organic search, resulting in 27% of our inbound leads. I see the benefit to having and implementing a sound strategy to make our site relevant to the Google machine.
Thankfully, search engines are getting better at understanding intent and we can write more naturally and receive positive results. However, there are times when I have a topic I want to write about and there is simply no way to naturally incorporate a keyword that Gravity Digital is trying to rank for. Can you relate?
Here's an example: On February 22 I published a post called Sales Emails I Deleted This Week. I wrote it for fun. It was not optimized around any keywords or part of a strategy, although it's certainly possible it will end up ranking. Since that date, the post has accounted for 54% of our website traffic and 30% of new inbound leads. Almost all from social media. What!? That took almost zero effort and I broke the "rules"! These numbers will obviously trail off because this content will get pushed further and further down newsfeeds into irrelevancy and we don't expect much long-term organic traffic to the post, but it was a nice shot in the arm!
While blogging remains a major part of our SEO strategy, these results did remind me that it's healthy to just write about whatever is in front of you, because someone else is probably in the same boat. In fact, according to Rand Fishkin, it's better to write with your visitors in mind and then go back and optimize around a keyword. Just provide value and then worry about the mechanics later. Here's a quick step-by-step for that process:
Write a value driven blog post without worrying about Google.


Use a keyword research tool to find a relevant keyword for the article you've just written. You're looking for a high search volume and a manageable degree of difficulty (usually below 70 on a scale of 1-100). For example, the phrase "writing blogs" receives 1,300 searches per month and has a difficulty of 55. Bingo.


Incorporate this phrase into the body of your post – it's probably already there if you picked a relevant phrase. Don't worry too much about frequency, Google will pick up on the intent of your article.


Use the phrase in the Title Tag, Page or Post Title, Alt text of an image within the page, URL, and in meta description (which should briefly set expectations before the reader clicks the link to read your post).



If you're serious about ranking for the phrase, you will need to link to it from relevant sources. You can use internal links from your own site and reach out to other sites to see if they can provide links to your article. If the post proves to be popular, consider re-publishing on third party publishers like LinkedIn and Medium.
There you have it, evidence that you don't have to have SEO in mind when writing blogs to generate good traffic, but also a process for optimizing your posts after they're written to try and get some rankings. Two Birds. One Stone.

About the Author Matt Brannon
Matt joined Gravity Digital as the Marketing Director in 2013. He immediately connected with the company vision and values, and played an integral role in Gravity Digital's transition from a traditional ad agency to an inbound healthcare marketing agency.

Follow Matt Brannon: LinkedIn | Twitter