Attention, B2B site owners: your web page is about to get knocked out.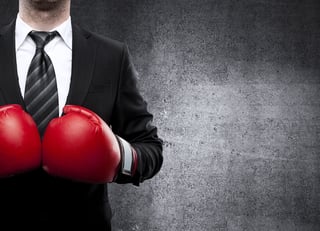 B2B stands for "business to business", but it might as well mean "brawler to brawler." B2B enterprise is fiercely competitive. Selling to other businesses isn't the same as selling to consumers, and glass jaw enterprises without specific strategies for business marketing won't stand a chance in the sales octagon.
Here are a few B2B website best practices you must have in your corner if you hope to find success with your marketing.
1. A Black Belt in SEO
SEO used to be a concern primarily for Business to Customer (B2C) enterprise, but B2B companies are quickly learning to how leverage SEO to suit their own needs.
While B2C SEO focuses on increasing brand visibility to drive customers through an established sales funnel, B2B website best practices work a little differently. Your B2B SEO goals don't just involve ranking well in search; they involve establishing authority, removing risk, and making yourself visible enough to be on the short list of service providers that clients review.
Many of the same SEO rules apply, of course—long-tailed keywords, effective ad copy, and value-driving backlinks are all still necessary. The difference comes from the end goals, and how businesses leverage SEO practices to make themselves marketable when entering the B2B ring.
For a little more insight on Google's algorithm, read this post on Getting to Page 1 on Google.
2. Risk Management Mastery
B2B enterprise is all about risk avoidance. There's an old sales mantra describing that business owners aren't afraid to spend money—they're afraid of looking stupid. No executive wants to be responsible for when an investment gets KO'd in the first round.
Because of this, your B2B site must telegraph legitimacy and authority. Remove the idea that a partnership with your business is a risky endeavor. Many B2B site owners find that providing steady content that addresses industry pain points is an effective strategy here. Your goal is to offer something that nobody else has—you want be seen as a trusted authority and thought leader to the businesses you're targeting. When your clients believe in your ability to deliver steady, unique results, trust comes as a matter of course.
And this trust is essential if you want your site to be a contender in the B2B battle. The consumer masses might be willing to give your run-of-the-mill website a shot, but your B2B clients certainly won't.
3. Calling to Action
Another of our B2B website best practices involves providing easy ways for clients to throw in the towel—meaning that when they inevitably say "I'm tired of looking, where do I sign?" they have an easy way to do it.
While well-placed calls to action are a cornerstone of sales growth for both B2C and B2B companies alike, they are particularly important when dealing with business clientele. Businesses do plenty of research before purchasing—far more research than customers typically do. Don't expect them to just "give you a shot" if they have trouble locating your calls to action.
Calls to action are the lynchpins of conversions. Failing to optimize may send the wrong signal that you might not be the best business partner to work with.
The Marketing Melee
B2B site owners trying to gain attention from prospective clients need to come in swinging.
The very minimum that B2B site owners must achieve are basic SEO tactics, well-designed calls to action, and a web page that helps assuage the fears of clients by managing their investment risks. From there, site owners can delve more deeply into B2B website best practices to create a web experience that can hold its own against whatever other contenders enter the ring.
If you want to dig a little deeper and apply some specific principles to your B2B site, download our free ebook on the 25 website must-haves for generating traffic, leads, and sales.

About the Author Matt Brannon
Matt joined Gravity Digital as the Marketing Director in 2013. He immediately connected with the company vision and values, and played an integral role in Gravity Digital's transition from a traditional ad agency to an inbound healthcare marketing agency.

Follow Matt Brannon: LinkedIn | Twitter